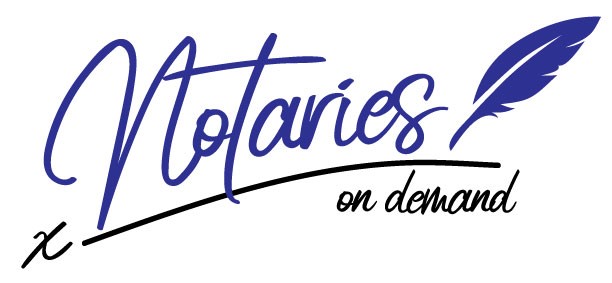 Partner Bio
GoCertificates.com, Inc. ("GoCertificates") is a Pennsylvania based remote notarization technology vendor via its product NotariesOnDemand.com ("NOD").
NOD is a web-based, online remote notarization solution developed by GoCertificates. Fully commissioned Notaries operating from GoCertificates' current authorized jurisdictions act as contractors to provide notarial services to the public.
GoCertificates has been in operation since 2004 as a leading provider for the ordering of certificates and related documents. With the enactment of remote online notarization legislation, GoCertificates developed NotariesOnDemand.com to provide a notary-friendly web-based system for remote notarization.
GoCertificates has integrated the correct certificates with IdenTrust to assist you to obtain what you need.
Choosing Your Certificate
A notary public is required to have and use an identity-based digital certificate to digitally sign and seal each notarized document.  Once a digital signature is applied, the electronic document is encrypted so that it cannot be modified; thereby protecting against digital tampering and creating a non-repudiable legally binding document, in which relying parties can trust. 
Simply select "BUY NOW " and the IdenTrust Certificate Selection Wizard will assist you in choosing a certificate that is accepted by NotariesOnDemand to meet your business needs. Your digital certificate can also be used to secure your email communications through digital signing and encryption.
Applications for Basic Assurance certificates use an automated process that usually takes 24-48 hours. 
Special Instructions
To learn more about GoCertificates and the Notaries On Demand system, please visit www.NotariesOnDemand.com or contact GoCertificates at 1-866-694-0571 (Option 2).
Important Information
In the case where hardware is issued, ONLY THE SUBSCRIBER OF THE CERTIFICATE SHOULD HAVE EXCLUSIVE USE OF THEIR TOKEN – In all cases, THE DIGITAL CERTIFICATE IS YOUR FORM OF IDENTIFICATION, SIMILAR TO YOUR PASSPORT OR DRIVER'S LICENSE. Under the IGC Certificate Policy, it is our responsibility as an Authorized Certification Authority to revoke the certificate in a case of hardware loss or disclosure or compromise of the private key or any certificate related password to anyone other than the subscriber.