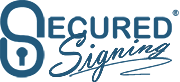 Partner Bio
Since early 2010 Secured Signing has been offering a Digital Signatures platform for many types of businesses across the globe. Secured Signing is a SaaS solution that allows a Notary Public and requester to complete the notarization process all online without having to visit a Notary Public in person.  
Secured Signing's offering includes an all in one platform for:
Electronic Notarize document
Remote Online Notarization (RON - Video Signing), with meeting scheduler
Knowledge-based authentication
Online Identity verification
Add fields such as text, radio button, tick boxes, date, multi-lines text box
Mark-up and remove text
Requester / client Signature
Signing process journal – Document log
Signing workflow
Witness support
Reports
Signing process visibility
Reminders process for follow up
Mobile support
Secured Signing's eNotary Platform is built for:
Notaries – Business and Individual
Title Agencies
Signing Agencies
Mortgage Brokers
Real Estate Agencies
Businesses with in-house Notaries
Other businesses using Notary services
Secured Signing provides a one-stop digital signature service that delivers a full range of form completion and eSigning capabilities. The use of advanced, personalized X509 PKI Digital Signature technology is far more secure than using plain electronic signatures. Secured Signing enables its users to use any device to capture their graphical signature, fill-in, sign, seal and verify documents anywhere, anytime. The solution streamlines business processes, cuts back on expenses, expedites delivery cycles, improves staff efficiency and enhances customer service in a green environment. To learn more about Secured Signing, visit www.securedsigning.com.
Choosing Your Certificate
A notary public is required to have and use an identity-based digital certificate to digitally sign and seal each notarized document.  Once a digital signature is applied, the electronic document is encrypted so that it cannot be modified; thereby protecting against digital tampering and creating a non-repudiable legally binding document, in which relying parties can trust. IGC Notaries | Medium Assurance | Business Identity | Storage Software certificates may also be used for interaction with the Government. Simply select "BUY NOW" and the IdenTrust Certificate Selection Wizard will assist you in choosing a certificate that is accepted by SecureSigning.com and to meet your business needs. Your digital certificate can also be used to secure your email communications through digital signing and encryption.
Applications for IGC Notaries | Basic Assurance | Individual Identity | Software Storage certificates use an automated process that usually takes 24-48 hours. IGC Notaries | Medium Assurance | Business Identity | Software Storage certificates require stronger authentication, including in-person identity proofing of the applicant. This process usually takes an estimated 7-10 business days for in-person identity proofing. Your IGC Notaries | Basic Assurance | Individual Identity | Software Storage certificate is accepted for public use. If you will use your IGC certificate to interact with government agencies, we suggest that you purchase a IGC Notaries | Medium Assurance | Business Identity certificate.
Other Resources
Learn more about IGC Certificates
Learn more about eNotary
Learn how to use Secured Signing eNotary
Schedule and host a real-time live video meeting (RON) with secure document signing
Important Information
Please note: ONLY THE SUBSCRIBER OF THE CERTIFICATE SHOULD HAVE EXCLUSIVE USE - THE DIGITAL CERTIFICATE IS YOUR FORM OF IDENTIFICATION, SIMILAR TO YOUR PASSPORT OR DRIVERS LICENSE. Under the Certificate Policies governing the issuance and use of certificates offered by IdenTrust, it is our responsibility as an Authorized Certification Authority to revoke the certificate in a case of loss or disclosure of the private key (Password) to anyone other than the subscriber.