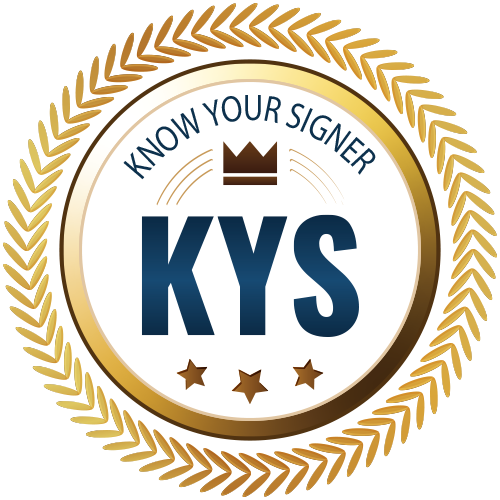 Partner Bio
KYS-Tech is the oldest provider of digital notarization technology. Since 2001 we have been the innovative leader and implementer of digital and signature technologies to notary markets. In 2013 KYS was the first to conduct a RON (remote online notarization) where the signer and notary were on opposite coasts. KYS is recognized as the leader of the dynamic enterprise RON platforms. We have partnered and provided RON guidance and custom solutions to some of the US's largest businesses, legal firms, and governments.
Choosing Your Certificate
A notary public is required to have and use an identity-based digital certificate to digitally sign and seal each notarized document. Once a digital signature is applied, the electronic document is encrypted so that it cannot be modified; thereby protecting against digital tampering and creating a non-reputable legally binding document, in which relying parties can trust. Simply select "BUY NOW" and the IdenTrust Certificate Selection Wizard will assist you in choosing a certificate that is accepted by IdenTrust to meet your business needs. Your digital certificate can also be used to secure your email communications through digital signing and encryption. When retrieving your certificate, please remember to create a backup file, including the private keys. Be sure to save the backup in a secure location to protect it from unauthorized access. See link below in Other Resources Applications for Basic Assurance certificates use an automated process that usually takes 24-48 hours. Certificates with Medium Assurance require stronger authentication, including in-person or remote identity proofing of the applicant. This process usually takes an estimated 2-5 days for remote identity proofing and an estimated 7-10 business days for in-person identity proofing. Your IGC Basic Assurance certificate is accepted for public use. If you will use your IGC certificate to interact with government agencies, we suggest that you purchase a Medium Assurance certificate.
Special Instructions
Typically we use the language about protecting your certificate, etc. You included the template language in the eNotary customers and should strongly consider using it here. To learn more about IdenTrust, please visit www.IdenTrust.com Are you a notary interested in becoming a remote electronic notary on the IdenTrust platform? Have a Question? Give us a call! 888-388-0885 Monday - Friday - 9:30 am - 4:00 pm EST
Important Information
Please note: ONLY THE SUBSCRIBER OF THE CERTIFICATE SHOULD HAVE EXCLUSIVE USE - THE DIGITAL CERTIFICATE IS YOUR FORM OF IDENTIFICATION, SIMILAR TO YOUR PASSPORT OR DRIVERS LICENSE. Under the Certificate Policies governing the issuance and use of certificates offered by IdenTrust, it is our responsibility as an Authorized Certification Authority to revoke the certificate in a case of loss or disclosure of the private key (Password) to anyone other than the subscriber.
Affiliated URL