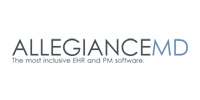 Partner Bio
AllegianceMD has partnered with IdenTrust to provide identity proofing and issuance of hardware two-factor authentication tokens necessary for EPCS.
AllegianceMD is blazing new trails in medical billing and practice management software. We've used our proven programming expertise to develop a web-based software product that is second to none. Our team investigated the needs of medical practices in various fields, directly working with healthcare staffers to identify their previous software's deficiencies. Recognizing critical key factors—such as time, accuracy, efficiency, full transparency, quick access, navigational ease—our team has dedicated itself to significantly raising the bar.
Choosing Your Certificate
For EPCS Prescribing
The EPCS Prescribing with Mobile Authentication (Software) option allows you to store your certificate in your browser. This will allow you to manage your EPCS Prescribing with Mobile Authentication mobile devices via your web browser without having to insert a HID USB token. You are required to use an IGC Basic Assurance with Software certificate, you can select this option when you press the BUY NOW button to access the Certificate Selection Wizard.
Important Information
In the case where hardware is issued, ONLY THE SUBSCRIBER OF THE CERTIFICATE SHOULD HAVE EXCLUSIVE USE OF THEIR TOKEN – In all cases, THE DIGITAL CERTIFICATE IS YOUR FORM OF IDENTIFICATION, SIMILAR TO YOUR PASSPORT OR DRIVER'S LICENSE. Under the IGC Certificate Policy, it is our responsibility as an Authorized Certification Authority to revoke the certificate in a case of hardware loss or disclosure or compromise of the private key or any certificate related password to anyone other than the subscriber.