IdenTrust Offers TLS/SSL Certificates to Meet Your Needs
Select from various, economically-priced TLS/SSL products to secure your website and satisfy the assurance level most suited to your business.
---
TLS/SSL Validity Periods
Effective September 1, 2020 per the CA/Browser Forum guidance, IdenTrust TLS/SSL certificates cannot be issued for validity periods greater than 398 days (13 months). However, DoD ECA TLS Certificates are available in 1, 2, and 3-year validity periods.
Features of IdenTrust TLS/SSL Certificate Types
Let's start by comparing the types of certificates offered by IdenTrust! TLS/SSL server certificates offer a variety of functions, as defined in the following Features Matrix.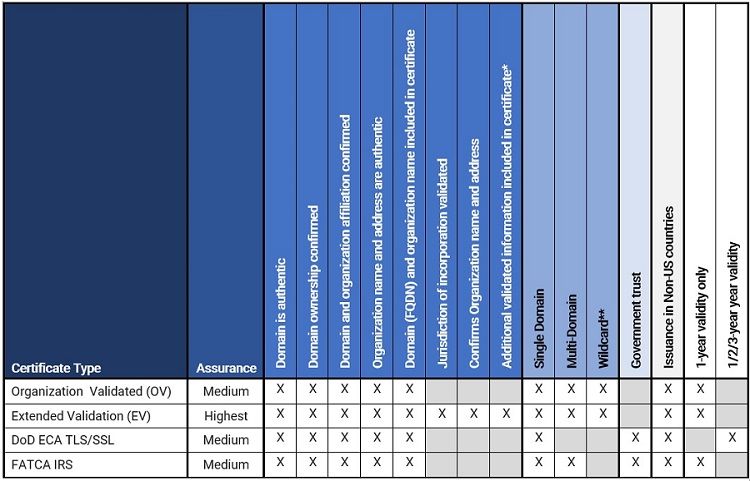 *EV certificates contain the organization name, the Fully Qualified Domain Name or names (FQDN), the jurisdiction of incorporation - state when applicable and country , the organization type,  the registration number and the address of the place of business.
**Wildcard TLS/SSL certificates are only available through our Software-As-A-Service model. Contact [email protected] for additional information.
IdenTrust OV and EV TLS/SSL Certificates
OV and EV certificates are available with a 1-year validity period and are multi-domain certificates. Up to 50 domain names can be added to each certificate. The base price includes two domains, and additional domains can be added for an additional fee. These certificates can be issued in various non-U.S. counties.
DV only certificates are not offered commercially on the IdenTrust.com website; however, both OV and EV certificates include domain validation (DV).
DoD ECA TLS/SSL Certificates
If you need a TLS/SSL certificate that is trusted by the Federal Government, you should choose an DoD ECA TLS/SSL certificate.  These certificates are equivalent to an OV certificate and can be purchased with 1, 2 or 3-year validity periods and are single domain only.  DoD ECA certificates can be issued for use in many non-U.S. countries.
FATCA TLS/SSL Certificates
In order to electronically file FATCA reports via the IRS International Data Exchange Services (IDES) system, an organization must be issued an IRS-approved TLS/SSL certificate. IdenTrust is on the approved list of vendors authorized to issue IRS-compliant FATCA TLS/SSL certificates.
Issuance in Non-US Countries
TLS/SSL certificates are available in many foreign countries; however, be aware that the U.S. Federal government prohibits sales of certificates in countries with trade sanctions or other government restrictions.
View our Supported Countries list
Pricing
The base price for IdenTrust OV and EV certificates includes up to two domain names. Additional domains, up to a total of 50 domains per certificate can be purchased for an additional fee per domain name. Additional domain names can be added during the initial online certificate application or via the Certificate Management Center (CMC) after your TLS/SSL certificate has been retrieved.
Check out our Applying for a TLS SSL Certificate resource document to learn more about Single Domain, Multi-Domain and Wildcard certificates.
Additional Program Information
Keeping these definitions in mind, you can select BUY NOW to use our certificate selection wizard or view our TLS/SSL product profiles for more detailed product features and pricing.
Purchase your TLS/SSL Certificate
To purchase a TLS/SSL certificate, simply select BUY NOW and use our Certificate Selection Wizard to determine the best certificate for your application.